Latest Gibson Guitar Lessons
Wes Montgomery-style Octaves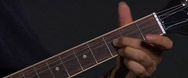 This style is one of the most imitated and recycled sounds in the history of the guitar, yet many players are either not familiar with it, or simply play it wrong.
13 July 2016, 11:18am
The Otis Rush/Jimmy Page Lick!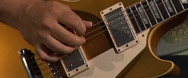 The lick and position in today's lesson has been a mainstay for rock and blues players for decades, and it's important to give it its proper historical tracing, and – more importantly – make sure it's taught correctly.
13 July 2016, 11:18am
The Right Hand is the 'Drummer'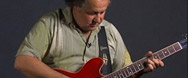 This is perhaps the single most important aspect of understanding rhythm and rhythmic guitar playing. One must remember that any instrument is to a certain degree a "percussion" instrument, and that it's the constant and unrelenting rhythm of the right hand that determines the true sound of the rhythm lick, and that also carries over into the lead fills and licks as well.
13 July 2016, 11:18am
The Roy Buchanan-style Bend Lick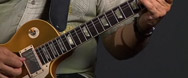 This great lick I learned right from Roy Buchanan's first LP for Polydor, titled Roy Buchanan, from 1972. It's a great example of how a country lick technique can be applied to the blues. It also illustrates the usage of a half-step or single-fret bend in place of a whole-step bend.
13 July 2016, 11:18am
The Open E Position 'Suzie Q' Lick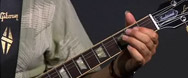 This is one of the real "foundational" licks of rock guitar, created way back in the late '50s by the great James Burton while playing with Dale Hawkins, who did the first recording of this song. It was later popularized by John Fogerty with Creedence Clearwater Revival in the late '60s, and represents one of the great "hybrid" picking licks of all-time.
13 July 2016, 11:18am
The Long and Winding Scales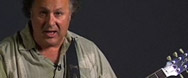 I would like to start off our lessons together with an examination of two critical sets of scales. Again and again, I will be referring to and building upon these scales for a vast range of lessons in all different styles and genres, and they will also be extremely useful and powerful tools for you to open up your playing across the entire length of the fret board.
5 April 2016, 3:56pm
The Classic Rockabilly Licks for E and A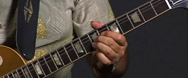 Some of my favorite licks to play or teach, these really put hybrid picking to the test! The feel has to be just right, and I'll make sure you get the correct left and right hand syncopation. It's one of those cool positions that's like riding a bike, once you've got it you'll never "unlearn" it!
5 April 2016, 3:56pm
The 'Memphis' Lick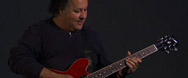 This lesson is really a natural extension of the previous lesson on 9th chord slides. The "Memphis" lick, which takes it's name from the Chuck Berry tune of the same name, is based primarily on these 9th chord positions.
5 April 2016, 3:56pm
The Open E 'Harmony Shuffle' in 2 Positions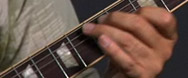 This is a very rewarding and enjoyable riff to be able to play, and I find that as simple as it may be many students and players alike have never happened upon it. This is probably because most players are just happy and satisfied to know the standard shuffle patterns and never think to create them in a harmonized way.
5 April 2016, 3:56pm
The Jimi Hendrix Rhythm Effect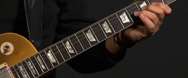 Jimi Hendrix had a truly powerful rhythm guitar approach that was beautifully designed to incorporate both lead and rhythm guitar, and accommodate the fact that he was basically in a three-piece band. This enabled him to paint in broad strokes with his guitar, and his technique varied widely from heavy power chord licks to smooth R&B/country-like sounds.
5 April 2016, 3:56pm
The Harmony Shuffles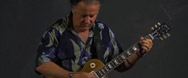 The Harmony Shuffle requires quite a bit more left-hand dexterity and coordination to accomplish over ordinary shuffles, but once you master them they become a great tool. I have long been a fan of these types of positions, and you will find them to be quite invaluable in many applications as well.
22 March 2016, 1:22pm
The E, A, and D "Drone" Position Bass Licks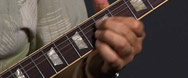 We all know how useful the "5th fret is equal to the next open string" thing is, but what about the open string being equal to the next string at the 7th fret? Well, that's what this lesson is all about; those cool octaves that can be created in this way.
22 March 2016, 1:22pm
The Constant Bass in Blues Fingerpicking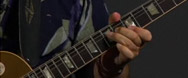 Today's lesson features a time-honored technique for blues fingerstyle playing that is equally at home on the electric or acoustic guitar, but perhaps most at home on the acoustic. It evokes the great blues styles of folks like Robert Johnson, Skip James, Brownie McGhee and many others.
22 March 2016, 1:22pm
The Great 'Mystery Train' Lick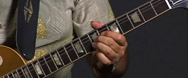 This great and influential lick utilizes the "claw" or hybrid-picking style to its fullest. Often associated with tunes like "My Baby Left Me," "See See Rider" and, of course, "Mystery Train," this lick has kicked off more jams than probably any other rhythm part in history.
22 March 2016, 1:22pm
The Classic 'Green Onions' Lick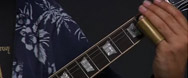 The guitar lick in the classic song "Green Onions" is a very oft-imitated and quoted riff that was originally played by Steve Cropper of Booker T. and the MGs. It is truly one of the real "foundational" licks of rock guitar, and has been the kick-off riff in countless jams ever since it was first heard. It's also like a backwards version of the "I'm a Man" Muddy Waters lick, which is another archetypical riff that is used over and over again.
22 March 2016, 1:22pm
Copyright © 2018 John McKay. All rights reserved.